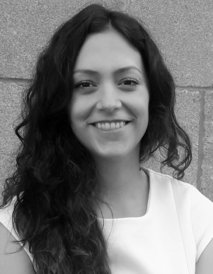 © Nathalie Giroud
Alumna/Alumnus
Faculty
LIFE Zurich
LIFE Faculty & Alumna
University of Zurich
Psychology & Cognitive Neuroscience
LIFE Fellow from 2013 to 2016, University of Zurich
Dr. phil.


Dissertation completed in September 2016
Dynamics of Electrophysiology and Morphology in Older Adults with Age-Related Hearing Loss
(Advisor: Martin Meyer)

Selected Publications
Giroud, N.*, Keller, M.*, & Meyer, M. (2021). Interacting effects of frontal lobe neuroanatomy and working memory capacity to older listeners' speech recognition in noise. Neuropsychologia, 158, Article 107892. https://doi.org/10.1016/j.neuropsychologia.2021.107892
* Shared first authorship.
Giroud, N., Baum, S. R., Gilbert, A. C., Phillips, N. A., & Gracco, V. (2020). Earlier age of second language learning induces more robust speech encoding in the auditory brainstem in adults, independent of amount of language exposure during early childhood. Brain and Language, 207, Article 104815. https://doi.org/10.1016/j.bandl.2020.104815
Giroud, N., Hirsiger, S., Muri, R., Kegel, A., Dillier, N., & Meyer, M. (2018). Neuroanatomical and restingresting state EEG power correlates of central hearing loss in older adults. Brain Structure and Function, 223(1), 145–163. https://doi.org/10.1007/s00429-017-1477-0