Curriculum
LIFE provides an attractive research environment for exceptionally talented graduate students who intend to pursue an academic research and teaching career. During the program, doctoral students are advised by at least one member of the School's faculty. In the course of the training, the fellows obtain additional supervision and feedback from LIFE faculty at the partner institutions.
As part of the three-year curriculum of the IMPRS, fellows are expected to participate in four seminar courses and academies each.
Seminar Courses
Each of the participating sites offers special courses and/or reading groups with a strong LIFE focus. LIFE fellows in Berlin participate in a special program of weekly seminars each semester. On a rotational basis, the topics are designed to give a broad coverage of research and theory in the biology, psychology, sociology, and education of the life course. The seminars are usually held at the Max Planck Institute for Human Development, taught throughout the academic year by a varying team of faculty from the three Berlin institutions, and also include invited lectures by external faculty.
Twice-Yearly Academies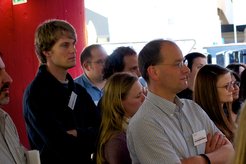 The strong integrative components of the international LIFE program are two week-long academies per year in which fellows and faculty from each institution participate. These academies consist of three components: faculty instruction, presentation of dissertation proposals and collective faculty feedback, and collegial exchange between faculty and fellows. To strenghten the collective faculty advisory role, the fellows are asked to nominate 3 to 5 LIFE faculty members from all cooperating institutions whom they would like to attend their project presentation and provide specific feedback.
Research Stay at Cooperating Institutions
LIFE fellows are encouraged to spend up to three months at one of the other cooperating institutions to engage in collaborative research and obtain supervision and feedback from LIFE faculty at the partner institutions. Such a stay abroad is also to expose students to a different research environment and to add to the internationalization of their research experience.
LIFE Commencement Event
On completion, the PhD is awarded to the student by his or her home university. The requirements and rules are those of the home universities. Typically, a student has at least two advisors, one from their home institution and one from another participating institution including the MPI. In the context of a ceremonial commencement event, successful LIFE fellows obtain a certificate from the International Max Planck Research School LIFE.