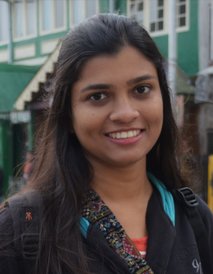 © Urmimala Ghose
Fellow
LIFE Berlin
External LIFE Fellow since 2022, Humboldt-Universität zu Berlin & German Institute for Economic Research (DIW)
I am a doctoral student at the Humboldt-Universität zu Berlin, also affiliated with the German Institute for Economic Research (DIW), Berlin. I completed my Bachelor's and Master's degrees in psychology, both from the University of Calcutta, India. For my master's thesis under the supervision of Tilottama Mukherjee, I investigated the association between autobiographical memories and self-concept of middle-aged adults and a matched clinical group with a diagnosis of major depressive disorder. Afterwards, I pursued a Master of Philosophy in clinical psychology from the same university, whereby I developed a strong passion for the dynamics of human wellbeing across the life span. During my clinical training, what intrigued me the most in my close interactions with the individuals seeking mental health support was the psychological resources they possessed that helped them cope up with their "illness" and advanced them in the path of "wellbeing." As my M.Phil. dissertation, also supervised by Prof. Mukherjee, I investigated the roles of loneliness and various intentional activities in predicting the psychological wellbeing of students during the pandemic, using a mixed-methods approach. In addition to my regular curriculum, I collaborated in multiple national and international research projects as well.
Delving deeper into positive psychology made me realize that I wish to dedicate my academic career to researching on human life course and wellbeing. As a LIFE fellow, I am working with Denis Gerstorf and David Richter as my advisors. My research focuses on the connections of life events and self-continuity with human wellbeing in the evolving sociocultural contexts, employing longitudinal methods. With the fast-changing world, understanding the dynamicity of human wellbeing in the light of individual life events and changes in a sociocultural milieu due to rapid globalization will be instrumental in flourishing human potential and mental health in a much broader context.
Dissertation project:
Contextual effects on adaptation to major life events


Selected Publications
Ghose, U., & Mukherjee T. (2021). Role of self-defining autobiographical memories in major depressive disorder: An exploratory study. Indian Journal of Clinical Psychology, 48(1), 41–47.
Ghose, U., & Mukherjee T. (2020). The role of autobiographical memories in self-perception of middle-aged adults. International Journal of Indian Psychology, 8(3), 998–1018. https://doi.org/10.25215/0803.107
Chakraborty, A., Kashyap, K., Sanyal, A., Ganguly, A., Banerjee, S., Das, T., Ghose, U., & Dogra, A.K. (2020). Does stigma towards alcoholics vary with their socio-demographic context? An experimental study. IAHRW International Journal of Social Sciences Review, 8, 7–9.